X-ray and CT scan types of diagnostic imaging machines. Both work on the same principle, but the main difference in both is that x-ray is used to detect the fracture, dislocation of bones, cancers, and pneumonia. In contrast, the CT scan is a kind of advanced x-ray machines that are used to diagnose delicate internal organs and injuries carefully.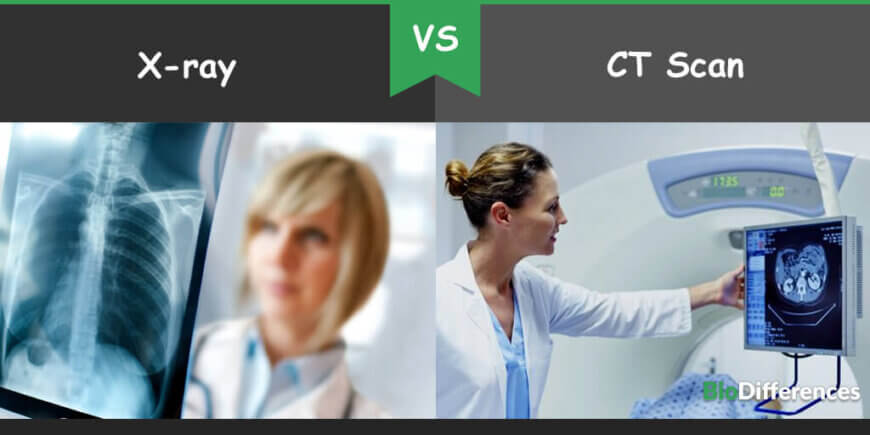 X-ray machines, sometimes, fail in diagnosing the soft tissues, muscle damage, and other body organs, which is only possible through the Computed Tomography procedure known as CT scan. Images generated by the X-ray are of 2D, whereas CT scan produced 3D images.
These are very common diagnostic techniques and are widely used. Most patients have had at least one medical imaging test. Although there are various types of machines used to detect diseases, when physicians need to see inside the body, they often get a diagnostic imaging test. The process of diagnosing through these two machines is performed under the supervisor known Radiologist.
Comparison Chart
| | | |
| --- | --- | --- |
| Basis for Comparison | X-ray | CT scan |
| Definition | The X-ray machine is a diagnostic machine that uses radiations called electromagnetic waves. | CT scan is a diagnostic machine that is the advanced form of the x-ray machine. |
| Invented by | Wilhelm Rontgen in 1895 | Godfrey Hounsfield and Allan Cormack in 1972 |
| Dimension of images | 2D | 3D |
| Used to diagnose | Tumors, pneumonia, fractured bones and dislocation of bones | Internal organs, soft tissues and blood vessels |
| Types | Two types: soft X rays and hard X rays | Two types: Positron emission tomography CT scan and CT urography |
| Advantage | Inexpensive, easily available | Produce deep and high-quality images |
| Disadvantage | Does not give internal organs images | Expensive |
What is X-ray?
Wilhelm Rontgen discovered the X-ray machine in 1895. Later, other scientists began taking these radiographs. Radiographs are the images formed of the scanned part of the film.
An X-ray machine uses radio or light waves as radiations. It is the easiest way for health care professionals to diagnose the soft tissues, bones and other body injuries. It is the most common and easy method for detecting bone fractures, tumors, pneumonia and dislocation of bones.
Working
An X-ray machine uses radiations of radio or light waves. These radiations pass through the target objects such as bones, which appear on the x-ray film. An x-ray machine generates a small explosion of radiations that passes through the focused body part, which has to be examined. Once the radiations pass through the body, a recorded image is produced on the photographic film.
Soft tissues and other organs absorb x-rays to a different extent, so they appear in different colors in the images. Denser objects such as bones absorb many radiations and hence appear white on the photographic film. In contrast, soft tissues absorb less radiation therefore appear in shades of grey on the photographic image.
Types
X-rays are of two types; soft and hard x-ray.
Soft X-ray: This type of x-ray has a short wavelength of approximately 10 nanometers. Therefore, they can be positioned in the electromagnetic spectrum between gamma rays and ultraviolet light.
Hard X-ray: This type of x-ray has a wavelength of approximately 100 picometers wavelength. They occupy the same area as gamma rays on the electromagnetic spectrum.
What is a CT Scan?
Engineer, Godfrey Hounsfield and physician Allan Cormack invented the computed Tomography scan in 1972. It is also known as computed axial tomography (CAT). CT scan machines look like a square machine and works on the principle of X-rays.
CT scan has wide applications. It is used to scan soft tissues and organs which provide multiple x-ray images to create a final image. The final image is viewed on the monitor of the computer. It focuses on the target areas much better than X rays and provides detailed and high-quality images. CT scans are used for the diagnosis of different diseases such as appendicitis, cancers, trauma, heart disease, infectious diseases and musculoskeletal disorders. But CT scan is usually expensive than x-rays and not readily available at the small hospitals.
Types
CT scans can be of two types: positron emission tomography CT scan and CT urography.
Positron Emission Tomography CT Scan: This type of CT scan helps the physician to see the level of activity of a certain body part along with their structure. In this, physicians receive as a substance called "tracer" containing glucose with a little bit of radioactive material attached before the test. The tracer travels through the body systems. It acts as a dye for the imaging scan to pick up on. If there is a high chemical activity in some areas, more of the dye will be picked up and will show spots on the images.
The radiation dose in the tracer is harmless and negligible for most individuals. The tracer will be swallowed, injured, or inhaled, depending on the examined body parts. Physicians use this type of CT scan for detecting heart problems, brain diseases and cancers.
CT Urography: CT urography is a specialized test used for evaluating the urinary tract such as kidneys, bladder and ureters. It is an innovative technology that uses computed tomography to produce cross-sectional images throughout the body. The images of this type of CT scan are very detailed and allow the physicians to make decisions on the most accurate treatment strategy to take.
Working
In the process of the CT scan, the patient is asked to lie on the table and slides into the CT scanner. Once it starts scanning, the x-ray machines rotate around 360 degrees and generate many images of the body part, which can be viewed by the radiologist on the monitor. The patient is asked to drink a solution before the test, which contrasts with the CT scan image and helps the radiologist to view a clear image.
Key Differences
The X-ray diagnostic test was discovered by Wilhelm Rontgen in 1895, whereas CT scan diagnostic test was discovered by Godfrey Hounsfield and Allan Cormack in 1972.
The X-ray machine uses the light or radio waves to produce the image by scanning the affected body part, whereas the CT scan scanned the body with 360 degrees and produce multiple X rays which can be viewed on the computer screen.
X-ray machines produce 2D images, whereas CT scan machines produce 3D images.
CT scan focus on the target area better than X-ray.
Key Similarities
Both are diagnostic imaging tests.
Conclusion
In conclusion, both x-ray and CT scan are two diagnostic imaging machines. CT scan is the advanced form of X-ray. But both are used to view different organs.